***Updated ***
By Recorder Staff
A Berthoud man was killed in a fire at his Mountain Avenue apartment on Thursday, March 19 at approximately 7:30 a.m.
Berthoud Fire Protection District and Loveland Fire Rescue Department responded to the blaze, which damaged two converted garage apartments occupied by 49-year-old James Hastings and his sister Lucinda Hastings.
Thompson Valley EMS paramedics were unable to resuscitate Hastings and he was pronounced dead on the scene. Lucinda Hastings, who lives in the adjacent apartment, was unhurt in the fire.
The Larimer County Sheriff's Office Victims Response Team responded to assist the family and firefighters onscene. The building, which is located on the 600 block of Mountain Avenue in downtown, is owned by Hastings' aunt and uncle, Lyle and Janice Hastings, of Berthoud, and relatives were immediately notified of the fire.
According to a press release issued by the BFPD, immediately after the fire was abated, Berthoud Fire Investigator Lee Scott, Multi-Agency Fire Investigation Team, the Colorado State Patrol, ATF (Alcohol, Tobacco, and Firearms) and the Colorado Bureau of Investigations, "conducted a fire scene examination and concluded that the fire originated in the living room area around the couch.
Investigators found evidence of discarded smoking materials that investigators believe caused the ignition of the fire.
Investigators also found evidence that the victim attempted to extinguish the fire with an at home fire extinguisher but was unable to put out the fire."
An autopsy was performed Thursday, March 19 by the Larimer County Coroner, and the death has been ruled accidental.
News Image: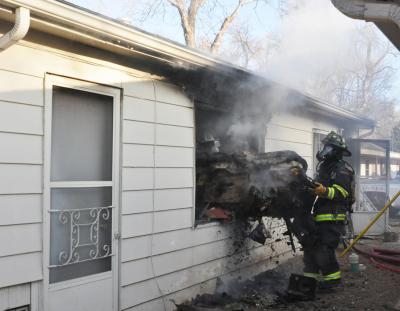 Long Description:
<p>Berthoud firefighters pull smoking furniture, including a mattress, from a Mountain Avenue apartment Thursday, March 19.</p>
Category Lead:
Category Secondary Featured Story
Home Lead:
Home Page Primary Featured Story

Print This Post