By Laurie Hindman
Berthoud Recorder
The Thompson School District has announced the selection of Chris Garcia as the new Berthoud High School principal, pending the approval of the school board.

Garcia has been the assistant principal at Prairie View High School in Henderson, Colo., for the past two years. Before that he was assistant principal at Northridge High in Greeley for six years and assistant principal of John Evans Junior High, also in Greeley, for two years. Garcia was a social studies teacher from 1993 to 1996. He received a master's in educational leadership and principal license from the University of Northern Colorado in 1999 and a bachelor's in secondary education from UNC in 1993.
Garcia said he is very excited to be offered the position. "I am honored. This is my dream job," he said.
Garcia said that once the contract is finalized by the school board, he will begin taking one day a week of personal leave from his current position at Prairie View High to familiarize himself with Berthoud High. "I want to get to up to speed quickly and get a good sense of the environment and culture of Berthoud," he said.
Garcia said he was working with BHS' veteran principal, Len Sherman, to set up a time to meet the staff, and said he would meet with students and parents as soon as possible.
Wes Fothergill, director of communications and community resources for the Thompson School District, said, "He has good experience as assistant principal both at Prairie View High and Northridge. We believe he is a good match for the Berthoud community."
Fothergill said extra time was taken for the selection process, including last week's community question-and-answer session, because of Sherman's long-term position as principal. "We were sensitive to the fact that this would be a significant change for the school," Fothergill said.
Garcia described himself as having a "very hands-on, out of the office" management style. "The way to get to know the students, the staff and the curriculum is to be in the hallways and the classrooms," Garcia said.
He also said any changes would be thoughtful and measured. "At BHS a lot of things are already working, he said. Garcia said following Sherman's leadership was a win-win situation. "We don't need to change the traditions and processes that are successful. If they work for the kids, I won't be messing with them," Garcia said. "New leadership is also an opportunity to regenerate ideas that may have not been possible in the past. We will be working to improve on a school that is already a gem."
Patty Buschjost is staying on as assistant principal. Buschjost was one of the three finalists for the principal position. Garcia said he is relieved she is staying. "Patty is the key to my success. No one knows better than she what the issues are."
Garcia resides in Greeley with his wife — a nurse — and three children — an 8-year-old and 4-year-old twins. In an e-mail sent Monday, Sherman said a community "meet and greet" session with the incoming principal would be scheduled as soon as is practical.
News Image: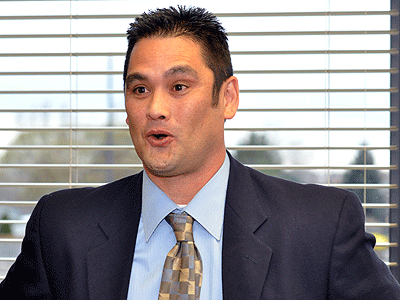 Long Description:
<p><span style="font-size: small;"><span style="font-family: arial,helvetica,sans-serif;">Chris Garcia has been the assistant principal at Prairie View High School in Henderson, Colo., for the past two years.</span></span></p>
Category Lead:
Category Primary Featured Story
Home Lead:
Home Page Primary Featured Story

Print This Post