The Crucifixion of Thomas Young
Tomas Young is the face of war they do not want you to see.
March 11, 2013  |
By Chris Hedges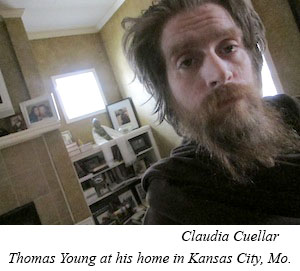 I flew to Kansas City last week to see Tomas Young. Young was paralyzed in Iraq in 2004. He is now receiving hospice care at his home. I knew him by reputation and the movie documentary  "Body of War."He was one of the first veterans to publicly oppose the war in Iraq. He fought as long and as hard as he could against the war that crippled him, until his physical deterioration caught up with him.
"I had been toying with the idea of suicide for a long time because I had become helpless," he told me in his small house on the Kansas City outskirts where he intends to die. "I couldn't dress myself. People have to help me with the most rudimentary of things. I decided I did not want to go through life like that anymore. The pain, the frustration. …"
He stopped abruptly and called his wife. "Claudia, can I get some water?" She opened a bottle of water, took a swig so it would not spill when he sipped and handed it to him.
"I felt at the end of my rope," the 33-year-old Army veteran went on. "I made the decision to go on hospice care, to stop feeding and fade away. This way, instead of committing the conventional suicide and I am out of the picture, people have a way to stop by or call and say their goodbyes. I felt this was a fairer way to treat people than to just go out with a note. After the  anoxic brain injury in 2008 [a complication that Young suffered] I lost a lot of dexterity and strength in my upper body. So I wouldn't be able to shoot myself or even open the pill bottle to give myself an overdose. The only way I could think of doing it was to have Claudia open the pill bottle for me, but I didn't want her implicated."
"After you made that decision how did you feel?" I asked.
"I felt relieved," he answered. "I finally saw an end to this four-and-a-half-year fight. If I were in the same condition I was in during the filming of 'Body of War,' in a manual chair, able to feed and dress myself and transfer from my bed to the wheelchair, you and I would not be having this discussion. I can't even watch the movie anymore because it makes me sad to see how I was, compared to how I am. … Viewing the deterioration, I decided it was best to go out now rather than regress more."
Young will die for our sins. He will die for a war that should never have been fought. He will die for the lies of politicians. He will die for war profiteers. He will die for the careers of generals. He will die for a cheerleader press. He will die for a complacent public that made war possible. He bore all this upon his body. He was crucified. And there are hundreds of thousands of other crucified bodies like his in Baghdad and Kandahar and Peshawar and Walter Reed medical center. Mangled bodies and corpses, broken dreams, unending grief, betrayal, corporate profit, these are the true products of war. Tomas Young is the face of war they do not want you to see. …


Print This Post