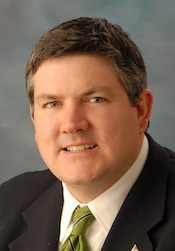 By: Larimer County Commissioner Tom Donnelly
The 2016 budget planning process is under way here at Larimer County. The Board of Commissioners have held a series of work sessions dealing with everything from a potential property tax rebate to various department service proposals to employee salary and benefits projections. Another featured topic has been the Larimer County 2015 Citizens Survey. Undertaken every two years, the survey is a statistically valid representation of residents throughout the county. Its purpose is to gauge citizen's opinions on the importance and performance of county services.
According to the Citizens Survey, an overwhelming majority of Larimer County residents believe that County services are important or highly important, while also believing that those services are performed adequately or better than adequately. The detailed results of this survey provide the Board of County Commissioners information that is used in preparing the county budget, by highlighting what areas of county services are functioning well and where improvements can be made. You can see the full results of the 2015 Citizens Survey on the Commissioners' webpage and at http://larimer.org/bocc/2015_citizen_survey.pdf.
For the second straight year, the County has produced a community report and the 2014-15 edition is now available. The Larimer County Community Report provides a visual overview of the services that the County provides and how these services are performing. This report is currently being distributed in regional newspapers and is available at many public locations, including Commissioners' citizen meetings. The 2014-15 Community report is also available on the Commissioners' webpage at http://larimer.org/communityreport/Community-Report.pdf.
It's also time to get ready for the Larimer County Fair and Rodeo! This year the fair runs from July 31st to August 4th. As always, general admittance and parking are free. The fair is fun for the whole family with a carnival, PRCA rodeos and lots of special attractions and entertainment. Make sure you join the Commissioners on Sunday morning for the free pancake breakfast! Visit http://www.larimercountyfair.org/lcfr_home.html for a complete schedule and details.
Board of Larimer County Commissioners/ District 3 Commissioner Tom Donnelly                          

Print This Post