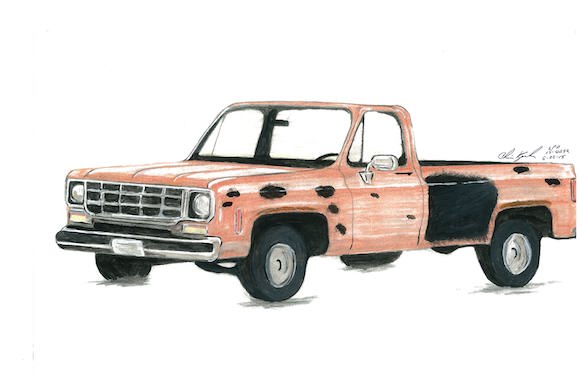 Task Force Update – Vehicle of Interest
Date: 6/23/15
The multi-agency task force that was formed to investigate the recent and apparently random shooting incidents in Northern Colorado continues to vigorously pursue any and all leads related to this investigation. A person recently reported to the task force they were shot at the night of June 3, 2015 in the area of Denver Avenue and East Eisenhower Boulevard in Loveland. That is approximately two miles from East 1st Street and St. Louis Avenue where Mr. William Connole was shot during the late evening hours that same night. The person shot at was not injured.
Task force investigators have been able to develop what they believe to be a depiction of a vehicle of interest based on several interviews and canvasses during this investigation. Investigators believe it is likely these two incidents are related and is seeking information about this vehicle of interest. Specifically, the task force needs the public's help in locating a 1970's model, full-size, single cab Chevrolet or GMC pickup truck that is faded orange in color with a full-size bed. It is possibly a 1973 – 1979 model GM pickup based on the round headlight shape. The pickup is one color, faded orange, and has black primer on the driver's side body. An artist's depiction of this vehicle of interest is attached to this release.
While the shooting in Larimer County on April 22nd and the shooting of Mr. John Jacoby on May 18th in Windsor have been linked by evidence, there is still no indication of a direct link between those two incidents and the two incidents in Loveland.
Anyone with information regarding this vehicle of interest is asked to call the Task Force tip line at 970-498-5595 where you may remain anonymous or email the task force at taskforce@larimer.org. If you see this vehicle moving and/or occupied, please immediately call 911 so local law enforcement can respond and follow all the directions of the emergency dispatcher. If you can do so safely, please gather as much information about the vehicle to include license plate state and number, distinguishing characteristics of the vehicle, description of the occupant(s), and/or a photograph.
The Federal Bureau of Investigation continues to offer a $20,000 reward for information leading to the arrest, prosecution, and conviction of the individual(s) responsible for any of these crimes.

Print This Post