The Rocky Mountain Light Sport Aircraft Expos is coming to Front Range Airport on Saturday & Sunday, May 19 & 20 from 8 a.m. to 4 p.m.
Light Sport Aircraft (LSA) are the hottest new category of aircraft. These sporty two-seaters aircraft are uncomplicated and easy to fly and require only a Sport Pilot license pilot rating to fly.  The Sport License requires fewer hours of instruction and the aircraft are less expensive to own or rent.
Come to the Expo and find out if Sport Flying is for you.
The Expo will feature aircraft from more than a dozen manufacturers plus flight schools, equipment providers and service providers.  The day kicks off with a pancake breakfast at 8 a.m. but participants are welcome to visit any time before closing at 4 p.m. Speakers will be on hand to explain the Light Sport Aircraft category,  provide information on how to earn a Sport Pilot license and many related aviation seminars.
Whether you are new to aviation or are a seasoned pilot, the Sport Pilot license and Light Sport Aircraft offer a more affordable flying experience. And of course it's loads of fun.  This is a great opportunity for every frustrated sky watcher to take control and join the ranks of those who call themselves Pilots. Join the adventure on May 19 & 20.
The Expo is sponsored by the Colorado Pilots Association, the Voice of General Aviation in Colorado.
Front Range Airport is 6 miles southeast of DIA in Watkins, Colorado. (Directions). There's plenty of free parking and free admission to the Expo.
For additional information about the event, contact Blanche Cohen at 303-755-1525 or blanche@acm.org. There are limited opportunities for members of the media to experience a ride in a Light Sport airplane before or after the Expo. Contact us for further information.
Click here for website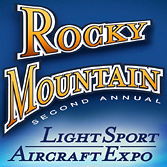 Print This Post