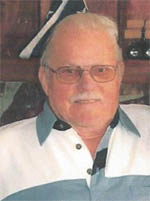 BERTHOUD – Wendell Krause, 89, died Sun. Mar. 18, 2012 at the Pomeroy Care Center in Pomeroy, Iowa. Funeral services were held on Wed. Mar. 21 at Larson Weishaar Funeral Home in Manson, Iowa, with Rev. Mark Galbraith officiating. Wendell's burial service will be held on Mon. May 14, at 10:00 a.m. at Foothills Memory Gardens north of Longmont.
Wendell Wayne Krause was born on May 25, 1922, at Garwin, Iowa. The son of Floyd and Mabel (Ankrum) Krause, graduating from Garwin High School in 1940. He served in the U.S. Army from 1942 until 1945 as a member of the 363rd Infantry in Italy. Wendell was united in marriage with Maxine Holt on Sept. 14, 1945, at Marshalltown, Iowa, and returned to Garwin to farm. He managed lumber companies in Iowa and Loveland, Colorado before his retirement. His wife preceded him in death in 1997. He and Maxine resided near Berthoud, CO between 1978 and 1997. Wendell relocated to Pomeroy, Iowa in 1999. Wendell was a 50-year member of the Masonic Lodge #478, as well as a member of the AmVets.
Among his survivors are his daughters Rebecca (Dennis) Howrey of Pomeroy, Iowa; Patricia Ann Heth of Waterloo, Iowa; Cheryl Jo Krause of Florence, Italy; son Kevin Michael Krause of Steamboat Springs, Colorado; long time companion Darline Behrends and her family in Pomeroy; sister Winona Paustian of Garwin. He was preceded in death by his parents and his wife.

Print This Post