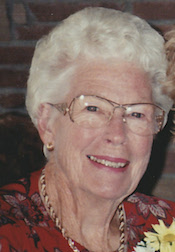 Betty Helen (Ferry) Bashor, 91, of Berthoud, passed away at the Lemay Long Term Care Center in Fort Collins on Wednesday, May 21, 2014.
Betty was born in Spokane, Washington on June 4, 1922 to Mildred (Cramer) Ferry and Frank V. Ferry.
Betty was married to E. Eugene "Gene" Bashor for 68 years. They made their home farming in the Berthoud/Johnstown area until 1977 when they retired to Berthoud. Gene preceded her in death in July of 2010.
Betty was very active in the First Presbyterian Church of Berthoud. She was the organist for that church for many years, was on the board of trustees and an Elder on Session. She was also a member and past president of Chapter HA of the P.E.O. Sisterhood. Betty was also Past Matron and Past Grand Organist Grand Chapter of Colorado of the Order of Easter Star. Betty especially enjoyed being the accompanist for choirs and soloists since her high school days, sewing, playing bridge with special friends, homemaking and caring for her dear husband and family that meant so much to her.
Betty is survived by her sister, Phyllis Roobian; three daughters: Linda (Chuck) Bentzen of Sheridan, Wy., Diane (Brent) Page of Aurora and Jodie Sabin of Fort Collins; four grandchildren: Brenda Moureaux, Christine Peart, Eric Page and Tony Hanson; and seven great-grandchildren.
Cremation has been conducted, and a memorial service will be held at 11 a.m. Saturday, May 31 at the Berthoud First Presbyterian Church.
Memorial contributions should be Made Payable to Berthoud First Presbyterian Church, For: Betty Bashor Memorial Fund and mailed to Berthoud First Presbyterian Church, 531 S. Eighth St., Berthoud, CO 80513.
Private family inurnment will be held at the Berthoud Greenlawn Cemetery.

Print This Post