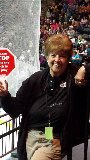 Judith Ann "Judy" Pearce of Windsor, Colorado passed away unexpectedly April 15, 2014 at the age 75.
Judy was born to Pete and Maxine Baller on June 14, 1938 in Longmont, Colorado. Her ancestors were early pioneers to Longmont and her great grandfather, Amos Millice joined the Chicago Colony helping to form Longmont and was part of the survey crew helping to lay out the town. She was preceded in death by her parents, husband, grandparents and other relatives.
Judy is survived by her children: Sandra Pearce of Fort Collins, Mike Pearce(Becky) of Laramie Wyoming, Linda (Ben) Bobbitt of Middleburg, Florida and Jason Pearce of Dodge City, Kansas; granddaughter, Ashley Pearce, of Middleburg, Florida; brother Jim(Gen) Baller, Walden Colorado, two sisters, Sue(Rick) Ulrich, Kingman Arizona and Nancy(Ron) Knaus, Fort Morgan, an Aunt, Jeane Law of Longmont, and numerous nieces, nephews, cousins and a host of friends.
Judy was raised in rural Colorado, attending schools in both Berthoud and Walden, Colorado, where she graduated high school in 1956. She was both a majorette and a cheerleader. She attended college at CSU in Fort Collins, where she met and married Leonard Pearce on January 7, 1961. They lived in Dodge City, Kansas, and later divorced.
Judy lived in Vail, Colorado for several years where she was a medical transcriptionist at Vail Valley Medical Center. She loved skiing and all sports.
Recently Judy moved to Windsor, Colorado where she was a crossing guard for the Windsor Police Department at Grandview Elementary School . She loved the children and being called "Miss Judy."   She was also employed by the Budweiser Event Center in Loveland and enjoyed being around people.
Judy was an avid fan of the Denver Broncos, Colorado Rockies, Colorado Eagles, and the Avalanche. She enjoyed going to sporting events, concerts, and horse races.
A private memorial service will be held later this month in Walden, Colorado. Cards and condolences can be sent to Pearce Children, c/o Sandra Pearce, PO BOX 273184, Fort Collins, CO 80527.

Print This Post