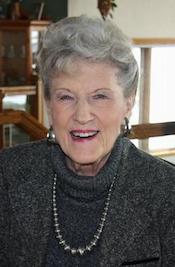 Bonnie H. Carter
(August 1, 1923 – December 30, 2014)
Bonnie Helen MacBride Durbin Carter died Tuesday, December 30, 2014, in Denver, Colorado. She was born August 1, 1923, in Berthoud, to Charles and Lila (Bateman) McBride, the youngest of seven children.
She grew up in Berthoud and graduated from Berthoud High School where she was a cheerleader and Homecoming Queen. She attended college in Glendale, California, and married her high school sweetheart, Edgar Durbin, on July 26, 1942; their only child, Linda, was born on December 3, 1948. Edgar Durbin passed away on January 18, 1959.
Bonnie married Lt. Col. John Carter on October 17, 1970. Bonnie and John traveled extensively until John's death on June 12, 1989. After a long career with Mountain Bell Bonnie retired and spent the remainder of her years volunteering as a peer counselor with Jefferson County Mental Health and playing keyboards in both a Big Band and a Jazz Band around the Metro area. Music was one of her great loves and she played the piano up until the end of her life. Bonnie's other great loves were her friends and family. She is survived by her daughter, Linda Burt, and her grandson, Dan O'Mary and his wife Barbara. Bonnie is also survived by 26 nieces and nephews, 57 great nieces and nephews, 75 great, great nieces and nephews and 47 great, great, great nieces and nephews. She was a bright light to all who knew her, continually interested in the world and people around her and showed us all how to stay forever young.
Services will be held at Kibbey-Fishburn Funeral Home in Loveland, on Saturday, January 3, 2015, at 10:00 a.m. Private interment will follow at a later date with interment at Berthoud Greenlawn Cemetery.

Print This Post