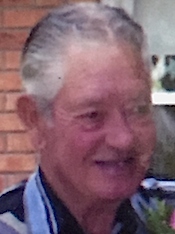 Jerry Sladek passed away in his home on the morning of Saturday, November 22, 2014. Jerry was born to Georgia and Jerry Sladek on November 20 1934. Jerry was preceded in death by his sister Margie, and survived by his brother Ralph.
Jerry is survived by his wife Dorothy. Jerry and Dorothy spent 56 years together after meeting at Arvada High School. They have two children Joseph and Tina Sladek.
Jerry served in the U.S. Army for 2 years. Jerry was a loyal Broncos fan and adamant fisherman. He enjoyed his younger days ranching with his best friend John Boyle. Later he owned and operated his own trucking business before retiring.
The family moved to Berthoud in 1980. Jerry and his son Joseph raised cattle on their farm for many years. Jerry was loved by everyone who knew him and could always make you smile. He was a fun-loving man who always had a good joke to tell. He is also survived by his six grandchildren: Alisha, Sheldon, Tyler, Jerimiah, Nathaniel, and Daniel. Jerry was blessed with one great-grandchild Jesse Meenen.
Services will be held at 10 a.m. on Monday, December 1,, 2014 at Saint Johns the Evangelist Catholic Church in Loveland. Reception to follow at the Knights of Columbus Hall. Gravesite ceremonies will be at Mountain View Cemetery in Longmont, Colorado, at 1:00 p.m. Go to www.viegutfuneralhome.com for condolences.

Print This Post