November 9, 1921 – September 1, 2014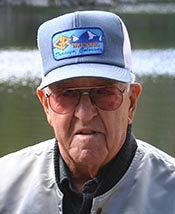 Lyle Dean Ellis quietly passed away Monday, September 1, 2014 at the age of 92 at home surrounded by family. Lyle was born in Norton County, Kansas on November 9, 1921 to Mary Velma Higgins and John Elmer Ellis. He lived in Norton with his parents and his brother Chester "Chet" and his sister Lucille. The family moved north of Anton, Colorado in 1930. Lyle attended the Arickaree School and was raised on the family farm where he learned to farm, tend cattle and break and ride horses until he enlisted in the Army in 1942.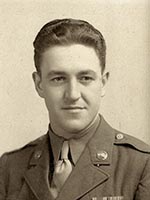 A World War II veteran, Lyle served as a tank commander in the 703rd Tank Destroyer Battalion that was attached to the 3rd Armored "Spearhead" Division. He arrived at Normandy on D-Day plus two and fought in military campaigns across Northern France, Belgium and Germany including the Battle of the Bulge. He was awarded a Bronze Star Medal for his service and was honorably discharged in 1945. Following the end of WW II, he returned to Colorado and lived in Fort Collins where he finished concrete by day and attended classes in agriculture at Colorado A&M in Fort Collins under the G.I. Bill. He then moved east of Berthoud where he operated a dairy and farmed with his brother Chet. He and Chet enjoyed playing baseball on Berthoud town teams for many years.
He married Marjorie "Marge" Hilton in 1956 and moved to Loveland where Lyle and Chet continued to farm and ranch with D.R. Pulliam. Lyle and Marge moved to the factory farm north of Hwy 34 where their first two children, Wayne and Greg were born. Lyle and Marge then farmed and raised beef and dairy cattle southeast of Loveland on Highway 402 where their son Scott and daughter Marilyn were born. The family was very involved with Larimer County 4-H raising market and breeding beef. Both Marge and Lyle served as superintendents at the Larimer County Fair at the old fairgrounds. Lyle served as the beef superintendent and Marge served as the McMillian Building superintendent. He continued to volunteer at the Larimer County Fair for many years and always looked forward to the steer show each year, especially in recent years as his grandsons, Austin and Dalton, began showing steers.
Upon his retirement from farming and ranching in 1994, Lyle and Marge moved to a portion of the land that he had once ranched and continued to raise cattle. Marge passed away in 2012. Lyle remained on his acreage, living on his own until his recent passing. Lyle loved his family. He also enjoyed visiting with friends and neighbors at his dining room table, attending farm sales and cattle auctions, watching Broncos and Rockies games, listening to country music, polka dancing and riding his four-wheeler.
Lyle is survived by sons Wayne (Tracey) Ellis of Windsor; Greg Ellis of Durango; Scott (Connie) Ellis of Johnstown; and daughter Marilyn (Jock) Visser of Las Vegas, Nevada and grandchildren: Lindsay (Ryan) Elworthy, Jennifer (Trever) Most, and Kyle Ellis of Durango, Jessica (Aaron) Rozsa of Aurora, and Austin Ellis and Dalton Ellis of Windsor. He is also survived by three great-grand children, Kaylee Elworthy and Keegan Most of Durango, and Brody Rozsa of Aurora. He was preceded in death by wife Marjorie "Marge" Hilton Ellis, his parents John Elmer and Mary Velma Higgins Ellis, sister Lucille Ellis Winston, brother Chester "Chet" Ellis and sister-in-law Laurene.
Services will be held at 10:30am on Saturday, October 11 at All Saints Episcopal Church in Loveland. In lieu of flowers, donations can be made to: Larimer County 4-H, 1525 Blue Spruce Drive, Fort Collins, CO 80524 or Meals on Wheels, 437 Garfield Ave., Loveland, CO, 80537. Please visit www.viegutfuneralhome.com for condolences.

Print This Post