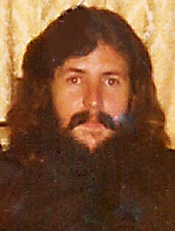 David Damacio Sanchez, 61, passed away on October 20, 2015 with family at his side. David was born August 13, 1954 in Brush, Colorado to Damacio Sanchez and Wilma Brunker Sanchez. They moved to Berthoud where David grew up. David enjoyed spending time in the outdoors, hunting, and fishing. He also enjoyed watching movies and spending time with family. While in Berthoud David worked for Dan's Trailer Supply, Continental Colorado Steel & Wire, and Universal Forest Products.
David is survived by his children Dusty Sanchez (Nicki) of Greeley, Davina Sanchez of Loveland and Ryan Ballard of Loveland; grandchildren Jeff Sanchez (Katelyn) and Dominic Sanchez both of Greeley; great-grandchildren Gunner and Brieland Sanchez; siblings Joe Sanchez (Donna) of Berthoud, Reva Steager (Tim) of Greyson, Georgia, Tim Sanchez (Terry) of Minnesota, Daniel Sanchez of Berthoud and Toni Sanchez of Berthoud; as well as many nephews and one niece.
He was preceded in death by his father Damacio Sanchez, mother Wilma Brunker Sanchez and his brother Pat Sanchez.
Viewing at Viegut Funeral Home on Wednesday, October 28, 2015 from 10:00 am-noon. The family will be holding a Celebration of Life Potluck from 11:00 am – 3:00pm on Sunday, November 1, 2015 at the Berthoud Community Center. In lieu of flowers donations may be made to the David Sanchez Memorial Fund in care of Viegut Funeral Home or Guaranty Bank. Go to www.viegutfuneralhome.com

Print This Post