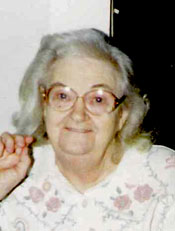 Edith Ava Nusser, 93, of Berthoud passed away at the Berthoud Living Center in Berthoud, Colorado on Thursday, April 7, 2011.
Edith was born on July 17, 1917 in Fulton, Missouri to Sherman T. and Ava (Strong) Pash.  She married Carl William Nusser, Jr. on May 19, 1967 in Rock Port, Missouri and they moved to Berthoud, Colorado in 1970 from Hancock, Iowa.
Edith and Carl managed the Pinederosa Mobile Park in Berthoud for thirty years.  Carl passed away in June 2008.
Edith was a devoted wife and mother. She enjoyed knitting, crocheting, and was an excellent seamstress.
Edith is survived by her daughter Joan E. Jones Kloke and husband Ed of North Platte, Nebraska, her son Sherman Claussen and wife Thelma of Irwin, Iowa, three step-children Julie, Kay and David Nusser, and numerous grand, great grand and great –great grandchildren.  A son Gail Mundorf predeceased.
Viewing will be from 3-5 p.m., Monday at the Kibbey Fishburn Funeral Home in Loveland.  Graveside service will be 2:00pm, Tuesday in Resthaven Memory Gardens.

Print This Post