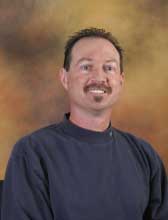 Stephen Gerard Sanford met his heavenly father face to face on March 28, 2011, as he peacefully passed away at the Hospice and Palliative Care of Western Colorado, after a hard-fought five-year battle with leukemia and lymphoma.
He was born November 29, 1963 in Kingston, New York to Edward and Barbara Sanford. In 1965 the family moved to Boulder, Colorado and in 1971 moved to Berthoud, Colorado. Steve was raised on a small farm and became an active 4-H member, raising pigs, sheep and dairy cows. He was gifted with the ability to work with animals and to work with his hands. He was also gifted with a fine tenor voice and was a select choir member at Berthoud High School, and was also chosen for the all-district choir. He graduated from Berthoud High School in 1982, sang at his graduation ceremony, and blessed many relatives and friends by singing at their weddings. He attended Mesa College and transferred to the Police Training Academy in Greeley, from which he would graduate. While awaiting a police position Steve rode as a volunteer officer for the Berthoud Police Department, milked cows, did roofing and flooring jobs. He worked for Coors Porcelain in Golden, and then was hired by West Star Aviation in Grand Junction as an aircraft mechanic.
On October 7, 1989, he married Donna Robison of Grand Junction, and they were blessed with two sons, Justin and Cody. His family was most precious to him, and he was always involved in the boys' sports activities, often coaching. Steve loved sports, and was an avid Bronco, Avalanche, Nugget and Rockies fan. He was a very successful hunter and an avid fisherman, who loved floating the Green and salmon fishing in Alaska, but any place there were trout was a good spot.
Steve was diagnosed with leukemia five years ago, and a journey he previously had begun with Jesus grew into a deep desire to serve Him. Following a bone marrow transplant and seven-month stay in the hospital in Denver, he turned that desire into action, studying to be a pastor. Shortly after completing his studies, it was determined that Steve was also suffering from an extremely rare lymphoma. Fighting his illness and the consequences of chemotherapy, Steve followed God's plan for him and officially opened the Clifton Vineyard Church on Easter morning, 2010. Despite his many medical struggles, Steve impacted many lives in his family, the hospital, the Pavilion and the Clifton Vineyard family as well as other churches and most coffee shops in the area. Everywhere he went he introduced people to the love of Jesus through his words and actions.
Steve is survived by his 'Proverbs 31:10-31 girl'- his wife, Donna; his sons, Justin and Cody of Grand Junction; his parents, Edward and Barbara of Pueblo West, Colorado; brothers, Bryan (Julia) of Penrose, Colorado, and Jon (Diane) of The Colony, Texas; sisters, Susan (David) Lahti of Hawaii, Ellyn Rush of Billings, Montana, and Sharon (John) Hudson of Firestone, Colorado; also father-in-law, Bill Robison of Grand Junction, brother-in-law, Darrell (Vicki) Robison of Parachute; sister-in-law, Debbie (Scott) Bishop and numerous nieces and nephews, his much-loved church family, many fishing 'buds' and hunting partners. He will be missed greatly by all of them. He was preceded in death by his much-loved mother in-law, Jo Ann Robison and a niece, Leah.
Cremation has taken place. A memorial service is scheduled for Friday, April 1, 2011, at 2 p.m. at Canyon View Vineyard Church.
Donations in Stephens name can be made to the Hospice & Palliative Care of Western Colorado, 3090B No. 12th St., Grand Junction, CO 81506 or to Clifton Vineyard Church, 634 Main St., Grand Junction, CO 81501.
Loving Dedication provided by Callahan-Edfast Mortuary

Print This Post