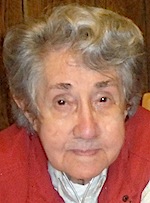 Emma Louise Dreith, 85, passed away Oct. 8, 2012 surrounded by four generations of family that loved her. Emma was born January 27, 1927 in Loveland, Colorado to Nellie and Thomas Parsons.
After high school Emma married Reuben P. Dreith on Nov. 14, 1943 in Loveland. Emma and Reuben managed their family dairy farm west of Berthoud until 1975. They then moved into the Milner-Schwarz house at the Larimer County Fairgrounds where Reuben was the fairgrounds maintenance supervisor. During this time Emma assisted Reuben with fairground duties and was an active supporter of 4-H events. Although Emma did not work outside the home, she was always there for support in whatever needed to be done. If you dropped in around mealtime, you were always welcome to share. Nieces, nephews, and later grandchildren were always welcome to spend the night, with Emma providing all the home cooked meals. After twelve years at the fairgrounds, Emma retired with Reuben to their home in Campion. Emma was married to Reuben for 51 years until his death on Feb. 1, 1994.
Emma was known for being an avid reader, her love of crossword puzzles, crocheting, and the many hours she spent with sisters Joy, Peach and other family members assembling hundreds of jigsaw puzzles.
Emma is survived by her daughter Ruby Birkley and husband Wally of Berthoud, four sons, Martin Dreith and wife Sue of Milliken, Dick Dreith and wife Margie Rosborough of Loveland, Dennis Dreith and wife Rose of Milliken, and Bill Dreith of Loveland; grandchildren Tory and wife Jill, Jenny Evans and husband Tim, Marissa Fisbeck and husband Scott, Keith, Brian and wife Catherine, Irene, Matt, Evan, Alex, Jolene and Terry; eleven great-grandchildren; sister Peach Schleiger of Loveland, brother Frank Parsons of Onawa, Iowa, special friend and caregiver JoAnn Seal; and sisters-in-laws Lovilda Hays and Betty Coleman and husband Jim.
Emma was preceded in death by her parents, husband, one sister Joy Lutz, and three brothers Tommy, Kenny, and Dave.
Funeral services will be Saturday, October 13 at 10:30 a.m. at Viegut Funeral Home. Viewing will be held one hour prior to services. Burial will be at Greenlawn Cemetery in Berthoud. The family requests in lieu of flowers that donations may be made to Meals on Wheels in care of Viegut Funeral Home. Go to www.viegutfuneralhome.com

Print This Post