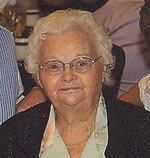 Mary was welcomed home to Heaven with open arms on August 10, 2012. She was born November 2, 1913 in Berthoud, Colorado to John and Margaret Sterkel Krieger. Mary grew up on a farm west of Berthoud and attended school in Berthoud.
On December 2, 1934 she married William Kaiser at the First Congregational Church of Loveland. They had a dairy farm for many years east of Johnson's Corner. After retiring from the farm they moved into Loveland. She worked for many years for Edith Woelfe, catering many lunches and dinners at the Pulliam Center. She also worked as a custodian at Garfield Elementary School. Mary was an amazing cook and baker. She loved to garden and go fishing. Mary was a member of the First Congregational Church of Loveland and was very active for 70 plus years, providing countless hours making noodles and dinners for fund raising and supporting the work of her church.
Mary would have been 99 on November 2 and up until the last few weeks enjoyed visitors and reminiscing. Mary and her husband Bill never had their own children, however she claimed many as her own, including family, friends, and care givers. She was preceded in death by her husband Bill, her parents, John and Margaret, brothers George, Conrad, John Jr., and Adam and sisters Christina Glantz, Katherine Schleiger, Elizabeth Johnson, and Anna Beckel. She is survived by numerous nieces, nephews, great nieces and nephews, great-great nieces and nephews, and great-great-great nieces and nephews. Mary was a special person who was loved by many. She always had a smile on her face and big hug to greet you. She fought the good fight, she finished the race, and she kept the faith.
A visitation will be held Tuesday, August 14, 2012 from 5:00 p.m. to 7:00 p.m. at Allnutt Funeral Service. The funeral service will be at 10:00 a,m., Wednesday, August 15, 2012 at First Congregational Church. Interment in Resthaven Memory Gardens. Memorial contributions may be made to First Congregational Church in care of Allnutt Funeral Service.

Print This Post