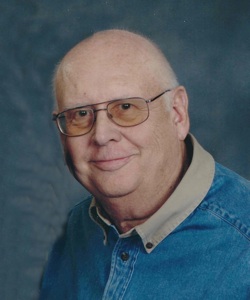 Gary G. Olson of Berthoud died July 7, 2011 at Hospice Care Center in Louisville, after gallantly fighting colon cancer since the spring of 2004. He was 71.
Gary was born in Longmont to Gilman E. and Margaret (Baker) Olson. He grew up and worked on the family farm in rural Mead.
Gary attended Mead Schools.  After his high school graduation in 1957, Gary received his Masters degree in 1963 from CSU and his Doctorate in chemistry in 1967 from Oregon State University.  He then returned and lived in Broomfield and worked at Rocky Flats.
Gary married Carol A. Carney in San Marino, Calif. on March 8, 1969. They moved to Longmont in 1978 and then to rural Berthoud in 1985, where they raised their children.
Gary was Owner and President of OWL Technical Associates of Longmont.  He was involved in creating "drift tools" and other technical instruments for various industries including the sugar beet industry which involved national and international travel.  He was also a computer and networking consultant for local companies. Gary and his brother Roger formed Olson Bros and annexed the family farm (Margil Farms) to Mead, and had farming interests in rural Johnstown as well.
He was on the Board of Directors for Little Thompson Water District and Carter Lake Filter Plant. Gary was also a life-long member of First Evangelical Lutheran Church.  He enjoyed piloting small planes, and was a model railroad enthusiast.  Gary was an avid reader and enjoyed camping and traveling with Carol including numerous trips to Europe and Hawaii. Gary loved his family, especially his grandchildren and enjoyed spending time with them.
He was preceded in death by his parents and his niece, Ann Marie Olson.
Gary is survived by his wife Carol of Berthoud; his son, Philip G. Olson (Marcia) of Grand Junction; granddaughters, Natalie, Abigail, Margaret, and Brianna Olson; his daughter, Nancy E. Schuetz (Mark) of Colorado Springs; granddaughters, Lauren, Erica and Anna and grandson, Avery Schuetz; brother Roger E. Olson (Dixie) of Johnstown; several nieces and cousins.
A memorial service will be held at 11:00 AM on Wednesday, July 20, 2011 at First Evangelical Lutheran Church, Longmont.
Please visit www.ahlbergfuneralchapel.com to share condolences and memories with Gary's family and to find information on memorial contributions in lieu of flowers.

Print This Post