Gilbert A. Perry passed away peacefully at his Berthoud home Oct. 12, 2009. He was born in Hyannis, Mass., on July 19, 1927. Early schooling was in Harwich, Mass. He graduated from Northeastern University in Boston and served in the Coast Guard.
Perry married his high school sweetheart, Naomi Ruth Allen in 1948 and died exactly 68 years later on the anniversary of the day they met. They moved to Colorado in 1953.
Perry was a United Airlines pilot for 31 years and was an avid outdoorsman. He and Naomi traveled extensively and treasure their friends from around this spectacular world.
He was preceded in death by his mother and beloved son, Kevin. Survivors include his wife, Naomi, daughter Jeannie Edens and grandchildren Jessica and Jared Edens.
Memorial service at Berthoud First Presbyterian Church at 9:30 a.m., Thursday Oct.15.  Memorial contributions may be made to Berthoud First Presbyterian Church or Hospice of Boulder and Broomfield Counties. Share condolences at www.AhlbergFuneralChapel.com.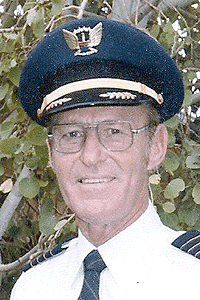 Print This Post