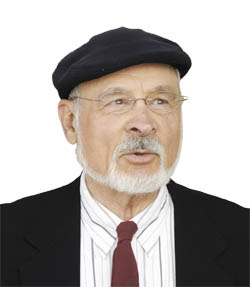 June 15, 1931 – August 1, 2016
Herbert Charles Meeker, 85, of Berthoud, formerly of Irving, TX from 1966- 2000, joined His Lord on Monday, August 1, 2016.
He was born June 15, 1931, to Max and Bessie Meeker of Maumee, Ohio. Herb earned a B.S. in Chemistry and Geology at Bowling Green State University. A US Air Force Captain, he served as flight navigator in the 60th Fighter Squadron from 1956- 1961.
During his career in Texas, he was an Industrial Engineer for Vecta, Bell Helicopter, and LTV. Herb retired to Berthoud; passionate about gardening, pottery, making jam, sports, and politics, he volunteered in the community in many ways.
Herb was preceded in death by his parents, sisters Evelyn and June, brother Don, and by his beloved wife, Mary Meeker. He is survived by his son, David Meeker (and wife Sarah), and daughter, Amy Buckingham (and husband Glen), of Berthoud; and numerous nieces and nephews and six grandchildren and five great-grandchildren and his dog Molly. Dearly loved by family, friends and the community, he will be greatly missed.
A Celebration of Life will be held in Herb's memory at Calvary Church, 2101 Gay Street, Longmont, Colorado, on Saturday, August 27, at 11:00 a.m. There will be a luncheon at the church following the service. In Herb's memory or in lieu of flowers, donations may be made to St. Jude's or the charity of your choice.
Cremation has been conducted at Kibbey-Fishburn Funeral Home in Loveland. Interment will follow at a later date in Minden, Louisiana.

Print This Post