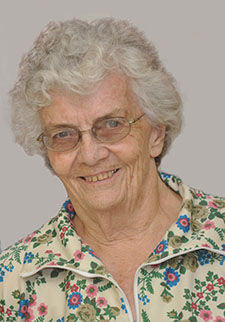 November 26, 1931 – August 25, 2016
Joyce Mazelle Wilson, 84, of Berthoud passed away in Rock Springs, Wyoming on Thursday, August 25, 2016 at Deer Trail Assisted Living Center. She was a resident of Rock Springs for the past year and a resident of Berthoud, Colorado for 55 years.
She died following a lengthy illness.
Joyce was born in Pritchett, Colorado, the daughter of Bruce B. Kenagy and Mable L. Berner Kenagy on November 26, 1931. Her maternal grandmother was Maze Peak, whose parents settled in Loveland in 1895.
She attended schools in Loveland and was a graduate of Loveland High School with the class of 1949. She also attended Cosmetology School at the age of 55.
Joyce married Curtis Samuel Wilson on January 18, 1953 in Berthoud and he preceded her in death on April 11, 2015 in Loveland, Colorado. They were proud parents of four children, Steve, Mike, Dennis and Cleta.
Joyce was very active in the Berthoud community and was a member of the Presbyterian Church, Lions/Lioness Club, AARP, and the Berthoud Historical Society. She was a Cub Scout and Girl Scout leader as well as a school bus driver. For many years she and Curtis were a familiar sight maintaining the Berthoud Events sign at Mountain Avenue and Third Street, taking tickets at Berthoud High School sporting events and helping with the 9 Health Fair. She never turned down an opportunity to volunteer and to help the community. Her big smile and infectious laugh will be missed.
Her interests were her grandchildren, one great grandchild, square dancing, and she was an avid crossword puzzle person.
Survivors include, two sons, Michael B. Wilson of Waltham, Mass.; Dennis K. Wilson of Berthoud; and one daughter, Cleta Elder and husband Larry of Rock Springs, Wyo.; four grandchildren, Kristi Lynn Wilson of Jamaica Plain, Mass.; Carla Ceballos and husband Fernando of Rock Springs; Emily Hunt and husband Jake of Rock Springs; Edison Elder of Rock Springs; one great-grandchild, Amy June Ceballos of Rock Springs.
Joyce is preceded in death by her parents, husband; one son, Steven Roy Wilson; one brother, Richard Kenagy; and one sister, Janice Kenagy.
Following cremation, a celebration of Joyce's life will be conducted at 2:00 p.m., Sunday, September 11, at First United Methodist Church, 820 9th Street, Berthoud, Colo.

Print This Post