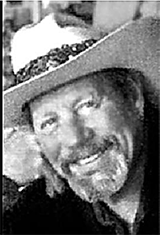 From the Ottawa Herald, Ottawa, Kansas
BERTHOUD, Colo. – Jack Alan Smith, 60, passed away on February 8, 2018, at his home near Berthoud, Colorado. Born August 19, 1957, in Nashville, Kansas, his early years were spent in Zenda, Kansas and he later moved with his family to South Hutchinson. He graduated from Nickerson High School in 1975 and moved to the Loveland, Colorado area in 1978, where he lived until his death.
Jack is survived by: his mother, Joan C. Smith of Kingman, Kansas; two sisters, Lisa Yoder (Jay) of Partridge Kansas and Mary Beth Koehn (Brad) of Wichita; two daughters, Lyndsey Smith and Sydney Palumbo (Bryan); two grandsons, Hunter and Benjamin Palumbo; and his companion, Robin Bracy, all of Colorado. He is preceded in death by his father, Bobby G. Smith.
Funeral services were held in Loveland, Colorado, on February 13, 2018. A family memorial service is planned for April, with burial at St. Peter's Cemetery in Willowdale, Kansas.

Print This Post