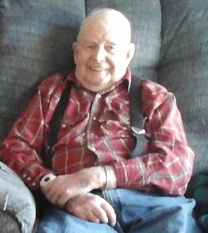 Feb. 19, 1920 – April 1, 2018
Funeral services for Charles Wilfred Meining, 98, will be held at 11:00 A.M. Monday, April 16, 2018 at the First Christian Church in Wheatland, Wyoming with Pastor Randy Gregory officiating. Inurnment will be held at the Wheatland Cemetery with military honors.
Wilfred Meining passed away Sunday, April 1, 2018 at Platte County Memorial Hospital in Wheatland, Wyoming with family surrounding him.
Wilfred was born February 19, 1920 in Berthoud, Colorado the son of Charles Louis and Mary B. (Owenby) Meining.
He is survived by his wife Lois Meining of Wheatland; daughters, Marsha (Daryl) Tiltrum of Wheatland, Peggy Meining (friend Gayle Lord) of Casper, Wyoming, Charla (Randy) Gregory of Cheyenne, Wyoming, and Nancy (Russell) Schoonover of Capser; brother, Don Meining of Platteville, Colorado; eight grandchildren; and ten great-grandchildren.
He was preceded in death by his parents; son, Alan Meining; and sister, Ruby Schaeffer.
The Gorman Funeral Homes – Platte Chapel of Wheatland are in charge of the arrangements.
Condolences may be sent to the family at www.gormanfh.com.

Print This Post