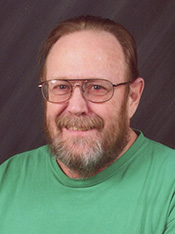 James Jackson Sanford passed away peacefully on October 11, 2015 at the Berthoud Living Center. He was born July 5, 1955 in Birmingham, Alabama. When he was 10-years-old, his family moved to Colorado. He was active in theater and sports in school, and loved spending time outdoors especially in the mountains or in the water. After graduating from Fort Lupton High School, Jim enlisted in the US Navy, serving for 16 years. He traveled extensively during his assignments with the USS Saratoga. One of his favorite assignments was as a drug detection dog handler, as he always loved animals. He married Anna Franklin in 1975. They had a son, Joseph, and a daughter, Jennifer. They divorced in 1991.
After leaving the Navy, Jim worked as a consultant in IT/Computer science. He soon wanted to return to the Colorado mountains he loved. Shortly after returning to Colorado in 1995, his cat introduced him to his veterinarian, Caroline Griffitts. They married in 2002. He is survived by his wife, Caroline of Loveland, his mothers, Maurine Sanford and Mary Duncan of Fort Collins, son Joseph (Lydia) Sanford of Lexington, KY; daughter Jennifer Sanford and grandchildren Dylan and Lianna Sanford of Fort Collins; Sisters JoAnne (Jack) Thaw of North Newton, Kansas, and Jan Sanford of Valley Center, Kansas; and many nieces, nephews and extended family.
His family would like to thank the staff of the Berthoud Living Center for their care of Jim. Cremation has been completed at Kibbey-Fishburn Funeral Home.
A memorial service is planned for Saturday, November 7, 2015 at 1:00 p.m. at the First United Methodist Church in Berthoud, Colorado.
In lieu of flowers, the family requests donations in Jim's name to the Mary Oswald Griffitts and Wallace Rush Griffitts Memorial Fund #0123906 , at the University of Colorado (cufund.org/giving-opportunities), or to the Southern Colorado Animal Rescue /Black Forest Animal Sanctuary (bfasfarm.org). Donations may be made online or sent in care of Kibbey-Fishburn Funeral Home.

Print This Post