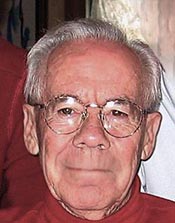 James J. Laffoon, of Berthoud and recently of Loveland, died August 20, 2014 at McKee Medical Center in Loveland. He was 89-years-old.
Jim was born November 6, 1924 in Woodrow, Colorado to Ross Morton Laffoon and Bessie Canatsey Laffoon. He grew up on a farm on the eastern plains of Colorado and later moved to Aurora where he graduated from William Smith High School. Jim served in the US Army, from 1943 until 1946, and played euphonium in the Army band. The first time he met Joyce Bleil at a social function at Capitol Heights Presbyterian Church he said, "That's the woman I'm going to marry." He did so on July 1, 1955; they shared 59 years of marriage.
Jim spent his entire working career in the title insurance industry, retiring from Transamerica Corporation in 1985. He spent his retirement years enjoying family (especially his beloved grandchildren) and photographing the beautiful mountains, flowers, and landscapes of Colorado. He was a member of Mountain View Presbyterian Church in Loveland and previously a long-time member of Shepherd of the Hills Presbyterian Church in Lakewood.
He is survived by his wife, Joyce Laffoon of Loveland; daughters Alice Wurtz (Eric) and Amy Taylor (Howard) of Fort Collins, Linda Mitchell (Tim) of Lakewood and Laura Laffoon of Denver; and three grandchildren: Erin Wurtz, Kyle Wurtz and Kacey Mitchell.
A memorial service will be held at 10:00 am, Saturday, August 30, in the Spiritual Life Center at Good Samaritan Village in Loveland. Memorial contributions may be made to Pathways Hospice, Mountain View Presbyterian Church memorial fund or the charity of your choice in care of Kibbey Fishburn Funeral Home.

Print This Post