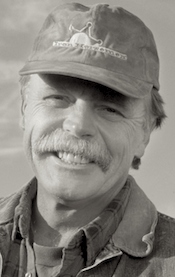 Jerry Pierre Krutar died Tuesday, April 14 at his home in Berthoud, Colorado. He was 62 years old.
Jerry is survived by his daughter Meisha (Tom Loder), son Graham, granddaughter Samantha, and by her mother, Jennifer Cusanelli. He is also survived by his brother Jon (Diane) Krutar of Ovando, Montana, his sister Janice (Faye) Pittman of Bend, Oregon, his neice Deanna (Ron) Erkenbrecher, Eric (Merridith) Krutar and their children, Chad Krutar, and by Todd (Jackie) Pittman and their children, and by his friend, Marilyn Miller.
Jerry was born February 23, 1953 in Deer Lodge, Montana to Roy C. and Betty M. Krutar who preceded him in death. He graduated from the Rocky Mountain School of Art with a degree in Graphic Design and owned his own business for over forty years.
Jerry was a man exceptionally wealthy in love and friendship. He was a gentle, genuine, whole-hearted man, most at peace in nature. He was an extraordinary outdoorsman, an avid hunter and fisherman. He was a man who saw the beauty in everything and everyone.
Cremation has been completed. No services are scheduled. Go to www.viegutfuneralhome.com for condolences.

Print This Post