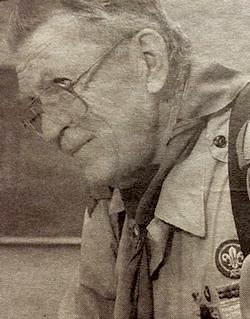 Richard "Dick" Kenagy passed away on Thursday, April 16, 2015, in Loveland at the McKee Medical Center.
Richard Bruce Kenagy was born on April 18, 1928 to Bruce B. and Mabel L. (Berner) Kenagy in Loveland. He graduated from Loveland High School in 1946. Dick continued his education receiving his bachelor's degree from Colorado State University in 1951. Dick married Alice Jean Higgins in Fort Collins on December 17, 1950. From 1952 to1954 Dick served in the US Army in Washington D.C. where he taught topographical map making. Dick later returned to Colorado where, in 1957, he received his master's degree from the University of Northern Colorado in Greeley. From 1957 to 1968 Dick taught sixth grade and later was principal at the Big Thompson Elementary School. He later taught, (1972-1984) in Golden, Colorado and he retired in 1984. Dick was a member of the Buckhorn Presbyterian Church, the Masonic Lodge in Berthoud since 1954 and the Loveland Rotary Club since 1957.
Dick served as Scout Master for Troop 9, from 1954 to 2013 and received the Reporter Herald Citizen of the Year in 1989 and Rotarian of the Year 1995 awards.
Dick is survived by his son David Kenagy and wife Michelle of Loveland, daughter Apryl Kenagy Vogelsang and husband David of Grapevine, Texas, two grandchildren Taylor Vogelsang and Amber Kenagy , his sister Joyce Kenagy of Berthoud and nieces and nephews. Dick was preceded in death by his parents and loving wife Alice Kenagy on March 25, 2009.
A memorial service will be announced at a later date. Dick will be remembered for his love of nature and living his life according to the scout laws.

Print This Post