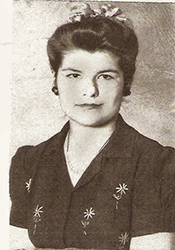 Beloved mother, aunt, grandmother, great grandmother and friend, Eleanor "Ellie" Finley née Lopez/Hughes died peacefully in Loveland Colorado at the magical age of 86.
Ellie is survived by her eldest son, William H. Hughes of Loveland, daughter, Maryanne Mesple of Berthoud, sister, Mona Vasquez of Berthoud, and sister, Carmen Fairchild of California. Ellie leaves behind 14 grandchildren; James McGough, Chris McGough, Steven McGough, Michael McGough, Anne Marie Sacks, Billy Hughes, Jamie Montch, Emily Willey, Robyn Hughes, Dave W. Swegan, Julie Thompson and Sae Lokason. Ellie was the beloved aunt of many including Dennis Smith, Alice Nanna, Devon Black and Kim Vasquez. Ellie was also the loving foster mother of Lynn Krumetch and Paul Nanna. Eleanor is preceded in death by her siblings Edward Ormsby, Frank Ormsby, Robert Vasquez, Theresa Rose, Henry Vasquez, and Victor Vasquez. Eleanor is now in heaven with her loving husband James Finley, her daughter Kathleen Sacks, her son, Clarence Hughes and daughter, Paula Nanna-Rice.
Eleanor Ormsby Hughes Finley was born on June 10, 1928 in Tucson, Arizona to Josephine Lopez Ormsby and William Edward Ormsby. At the age of 13 Ellie left her education behind to help raise her brothers and sisters. During WWII Ellie was a crane operator in Monterey, California until it was discovered she was underage and sent back home to Arizona where she met and fell in love with her first husband William H. Hughes who survived the beaches of Normandy. Ellie lived the military life that had her and her growing family moving across country numerous times as well as being stationed in Panama for 3 ½ years.
As a young woman she loved the music of her day and had prided herself in having an extensive record collection that was comprised of many genres such as Hawaiian chants, swing, and Country Western music. While working at and co-owning the 331 Roadhouse in Alabama, Ellie was privileged to meet and work with many up and coming famous personalities in music including Buck Owens, Jerry Lee Lewis and Ray Charles.
From the time she was a young girl until the day she left this world children were her reason for breathing for she truly believed all children were created by God to be loved by her. She raised her brothers and sisters and her own children and helped raise many of her nieces and nephews, and foster children and any child that needed love and a home – Ellie never said no to a child and babies naturally fell in love with her. To sum up Ellie's amazing adventure in life one could simply say, "The happiness of other's completed her life".
Friends are invited to an informal open house, where they can stop by and visit with the family anytime between 1-5:00 p.m., Saturday May 2, and Sunday May 3, 2015 at the family's home in Berthoud.
Memorial contributions may be made to the American Diabetes Assoc. in care of Kibbey Fishburn Funeral Home.

Print This Post