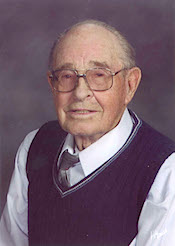 He was born Jan 26, 1925 to Newton and Etta Schaal, on a ranch near Limon Colo. Max grew up at the site of the United States Air Force Academy and was a veteran of War II.
After being discharged from the Army, he came to Berthoud, and farmed prior to operating a Machining business with Brothers Dale and Jack for fifteen years, doing business with IBM and Hewitt Packard, and later operating a 1600 acre ranch with his Brother Dale at Woodrow, Colo.
He married Marjorie Schleiger in 1956 and was preceded in death by her in 1988. Later he married Frances Wailes and she passed away in 2005.
Max enjoyed the greatest outdoors, and loved his family and friends, and was awed by the many wonders of God's Creations. He was a long time member of the First Presbyterian Church of Berthoud Colo.
"So Long, Its Been Good To Know yuh" Woody Guthrie.
Max wrote his own obituary and made it very clear that if it was changed in the least, he would do something, whatever that might be. Since it is word for word as he wrote from his hand written notes, he didn't leave much room. But, writing for his guardian angel which kept Max from serious harm untold numbers of times, "Wow, what a ride!. "
Funeral services will be held at 11:00 a.m., Saturday, May 30, 2015 at Berthoud First Presbyterian Church. Visitation will take place from 4-7:00 p.m., Friday at Kibbey Fishburn Funeral Home in Loveland.
A committal service will be held at 10:00 a.m., Monday, June 1 at Berthoud Greenlawn Cemetery.
Memorial contributions may be made to Hospice of Northern Colorado in care of Kibbey Fishburn Funeral Home.

Print This Post