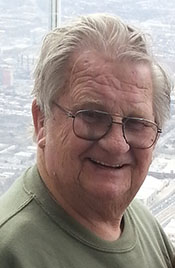 Chief William Henry "Bill" Wegener of Berthoud was born on November 8, 1938 and went to eternal peace on August 4, 2015 after a short battle with cancer.
He was born in Harvey, Illinois, to Thelma Lillian (Brown) and William August Wegener.
After high school, Bill joined the United States Air Force in 1956, achieving the rank of Airman 2nd Class as a Weapons Specialist. After being Honorably Discharged in 1963, he moved on to a career in Law Enforcement. Bill's career led to numerous positions from a Markham Police Sargent to Denver Police officer, to Sterling Detective to retiring in Berthoud as Police Chief.
On August 18, 1962, William married Margaret E. Ferguson in Julesburg Colorado. To this marriage two children were born, Loretta Ann Wegener and Rebecca Lynn Wegener. He was a devoted husband, father, and grandfather. One of his greatest joys was fishing and boating with the grandchildren.
He is survived by his children, Loretta Ann Wegener of Berthoud and Rebecca Lynn Wegener and her children: Daniel and Daisy Anchondo-Wegener of Berthoud and Laivy Anchondo-Wegener of Longmont, Colorado; his brother-in-law, Scott Ferguson and family of Omaha, Nebraska; his sister-in-law, Cherri Uber and family; and several nieces and nephews.
He is preceded in death by his parents, sisters, and wife Margaret.
A Celebration of Life service will be held at Kibbey-Fishburn Funeral Home in Loveland, at 1:00 p.m. Monday, August 10, 2015. Inurnment will be in Greenlawn Cemetery in Berthoud.
In lieu of flowers memorial contributions can be made to the Police Officers Memorial Fund in care of Kibbey-Fishburn Funeral Home and Crematory, 1102 N. Lincoln Ave., Loveland, CO 80537.

Print This Post