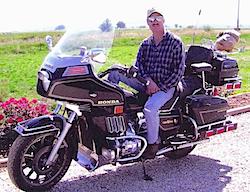 Kevin Hastings, of Berthoud, went home to be with the Lord on August 4, 2015 at the age of 54.
Kevin was born October 26, 1960 to Lyle and Janice Hastings. He attended Berthoud High School where he graduated in 1979. Kevin is survived by his wife Kari (of 34 years), daughter Tiffany, son Christopher of Berthoud; his parents Lyle and Janice of Longmont, brother Joe (his wife Christy) of San Diego, Calif.; sister Sonya of Berthoud; brother-in-law Randy (wife Barbara) of Johnstown; brother-in-law Damon of Littleton, and sister-in-law Deanie (husband Craig) of Rutland, Mass.; several aunts, uncles, nieces, nephews, great nieces and nephews.
He was currently employed at Raytheon, where he worked for 21 years, as an engineer. Before that he served in the US Navy for 10 years active duty and two years in the Naval Reserve.
Kevin had several hobbies he enjoyed, riding his motorcycle, fishing, going on cruises with family and friends, fixing things, and he loved spending time with friends and family as much as he could.
Services will be at Resurrection Fellowship, 6502 E. Crossroads Blvd, Loveland, Colo. at 10:00 a.m., Monday, August 10, 2015. A reception will follow at Resurrection Fellowship.
In lieu of flowers, the family asks that you consider donations to the Heart Transplant Foundation or National Fragile X Foundation in care of Kibbey Fishburn Funeral Home.

Print This Post