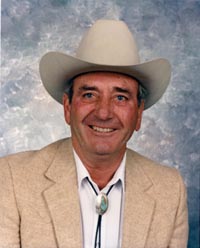 Jesse Leo Parrish
May 3, 1930 – November 29, 2010
Jesse Leo Parrish of Longmont died November 29, 2010 at his home. He was 80 years old.
He was born on May 3, 1930 in Carey, Texas, the son of Arthur Leo and Tressie (Williams) Parrish. Jesse graduated from Carey High School.
Jesse met the love of his life, Donna Lee Thomas, in Boulder Colorado in 1956 while riding horses when Donna was Pow Wow Queen and Jesse was a calf roper. Their romance grew from there and they were married almost 52 years, marrying at the Southern Baptist Church in Boulder on December 14, 1958.
Jesse managed the Caribou Ranch for three years and then moved back to Boulder. Soon after that, Donna and he moved to Berthoud where they owned and operated the Parrish Ranch with Jesse's brother Vaughn. At that time Jesse also worked as the Superintendent for the Left Hand Ditch Co. for 22 years, where he met many of his old time friends. Jesse and Donna also owned and operated the Lazy H Chuck wagon and Western Show at Heritage Square in Golden for 10 years.
Jesse was a member of Hygiene United Methodist Church and the National Rifle Association.
He proudly flew the American flag each day; he loved Western music, especially Bob Wills and Hank Williams. He sang all over West Texas with two brothers and a cousin when he was very young. Jesse could tell you who was singing almost every old song and he loved to dance. He could train horses and dogs and had "horse sense." The saddest day of Jesse's life was in 2003 when he lost his daughter, Laurie to Cerebral Palsy.
Jesse was preceded in death by his parents, his daughter, Laurie Parrish Meyer and his brother, Vaughn.
Jesse is survived by his wife, Donna Parrish of Longmont; a daughter, Cindy Hart of Golden, Colorado; two brothers, Clarence Parrish (Betty) of Perryton, Texas and Lonnie Parrish (Sandie) of Chugiak, Alaska; a sister, Mary Ann Alverson of Berthoud; three grandchildren, Jesse, Amanda and Randy Hart of Golden and numerous nieces, nephews and cousins.
A memorial service will be held at 11:00 a.m. on Friday, December 3, 2010 at Ahlberg Funeral Chapel, 326 Terry Street, Longmont. Cremation will take place at Ahlberg Funeral Chapel and Crematory. Memorial contributions may be made to the American Diabetes Association and mailed to Ahlberg Funeral Chapel. Share condolences and memories with Jesse's family at www.ahlbergfuneralchapel.com.

Print This Post