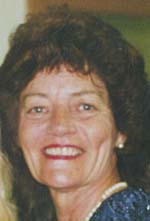 Shirley Jean Sandlian, 68 of Berthoud, died December 8, 2010 surrounded by her loving family. Shirley was born in Boulder, CO on October 20, 1942 to Jay D. and Elsie E. Winn. She grew up and went to school in Boulder.
Shirley married John Robert Cushman in September of 1961. Together they had five children. John passed away, April 14, 1975.
Several years later, Shirley married Donald Eugene Sandlian. Donald passed away January 13, 1997. Shirley lived west of Berthoud for more than 40 years.
Shirley was a loving, generous and caring woman who devoted her life to raising her five children. She also enjoyed spoiling her grandchildren. She was an inspiration to all who knew her.
She is survived by her loving mother, Elsie E. Winn, her children Renae Hupp, Clint (Terri) Cushman, Clay (Marsha) Cushman, Stephanie (John) Ternest and Clif (Bonnie) Cushman; as well as her grandchildren, Levi and Tyrell Billingsley, Crystal and Heather Cushman, John Ternest, Summer and Faith Cushman; and Madison and Boyce Cushman. Her sisters, JoAnne Heil and Lora J. Winn, and numerous nieces, nephews, cousins and friends.
Shirley is preceded in death by her two husbands and her father Jay D. Winn.
Funeral services will be held Tuesday 1:00 p.m. at Viegut Funeral Home in Loveland. Viewing will be held Monday from 5-8 p.m. at Viegut Funeral Home.

Print This Post