Justin Cody Moss
(August 22, 1994 – March 11, 2011)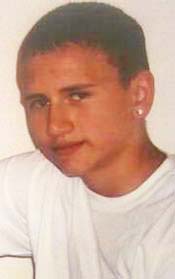 Justin Cody Moss, 16, of Wiggins, died Friday morning, March 11, 2011 from injuries he sustained in a vehicle accident in Fort Morgan.
He was born in Provo, Utah on August 22, 1994 to Steven K. Moss Sr. & Robyn (Leslie) Barton. He lived in Grand Junction and Berthoud before moving to Wiggins three years ago. Justin attended Thunder Mountain Elementary School in Grand Junction, Turner Middle School in Berthoud and at the time of his death, he was a sophomore at Lincoln High School in Fort Morgan.
Justin enjoyed playing basketball. He played at Turner Middle School in Berthoud and at Fort Morgan High School. He also enjoyed riding four wheelers and dirt bikes and target practicing and hunting with his dad.
Justin is survived by his father and stepmother, Steven & Rita Moss of Wiggins; his brothers and sisters, Lacie Moss and Steven K. Moss Jr., both of Grand Junction; Colorado, Lisa King of Anchorage, Alaska; Brandy K. Gale of Elsinore, Utah; Chase Barton of Salina, Utah; and Casey Barton of Salt Lake City, Utah. He is also survived by his maternal grandfather, Kenneth Leslie of Kerns, Utah.
Justin was preceded in death his mother, Robyn K. Barton; his maternal grandmother, Doris Leslie; and his paternal grandparents, Donald and Jeanne Moss.
A memorial service was held Wednesday, March 16 at 5:00 p.m. at the Heer & Dahl Mortuary Chapel in Fort Morgan.
Memorial donations may be made in Justin's name and sent to Heer & Dahl Mortuary, 225 E. Platte Ave., Fort Morgan, CO 80701.

Print This Post