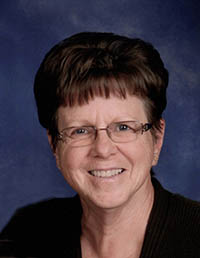 July 18, 1947 May 23, 2017
Katherine Louise Reyelts, age 69, passed away on May 23, 2017 in her home in Berthoud, surrounded by family. She was born on July 18, 1947 to Melvin and Beatrice (Eck/ Schumway) Crooks in their rural home near Summit, South Dakota.
She was baby sister to three older brothers and big sister to five sisters and one brother.
Kathy was a 1965 graduate of the high school in Peever, South Dakota.
During her high school years, Kathy spent summers waitressing for cafes in LaMoure, North Dakota and Minneapolis, Minisotta.
Kathy married Dennis Reyelts on September 25, 1965. They made their home on a farm near Wilmot, South Dakota.
During their 51-year marriage, they raised two children and opened their home to 35 foster children along with numerous foreign exchange students.
Kathy had a strong will and servant spirit. She was very gifted and artistic. She painted landscapes, decorated their home, and was an avid reader. Kathy was a farm wife, loved to entertain, travel, garden, cook, and square dance. She was a devoted member of Wilmot Lutheran Church: she served as Sunday school teacher, Sunday school superintendent, and later church secretary.
She also participated in woman's group and bible study. She was a member of the local community extension club.
In 2011, Kathy and Dennis retired and moved to Berthoud, to be closer to their children and grandchildren. She quickly adapted to her new home: she joined the local gym, book club, and Philanthropic Educational Organization (PEO) chapter.
Kathy was a devoted wife, mother, grandmother, sister, and friend. She had a strong faith and we are indebted to her for her example and grateful for the love and affection she extended to her family and friends throughout her life.
Kathy is survived by her husband Dennis, children Tony of Longmont, and Amy (Mike) Molina of Northglenn, and grandchildren Maria, Daisy, Mimi, and Elijah Molina. She is also survived by siblings Richard Crooks, Larry (Lucille) Crooks, Timothy (Avis) Crooks, Patty (Dale) Davidson, Vonnie Lehrke, Shirley Froidevaux, Judy (Diana) Crooks, Cindy (David) Argo, and many nieces and nephews.
She was preceded in death by her parents, brother Tony Crooks, and brothers-in-law Neil Reyelts, Richard Reyelts, Dick Lehrke, and Harold Froidevaux.
Visitation will be from 5:00pm to 7:00pm on Friday, May 26, 2017 at Ahlberg Funeral Chapel 326 Terry St. Longmont, CO. Services will begin at 11:00am on Saturday, May 27, 2017 at First United Methodist Church in Berthoud, with a reception immediately after. In lieu of flowers, memorial contributions may be sent in care of Ahlberg Funeral Chapel to the Wilmot Cancer Team or the Berthoud chapter of Philanthropic Educational Organization. Visit www. ahlbergfuneralchapel.com to share condolences.

Print This Post