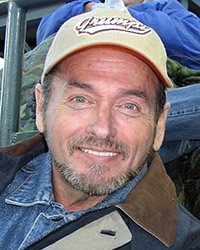 Robert "Bob" E. Lintz Sr. 71, of Berthoud, passed away with family by his side, on June, 6, 2017, at Swedish Medical Center in Englewood, Colorado due to complications of surgery. Bob was born July 3, 1945, in Santa Monica, California to Lavon and Eileen (Houston) Lintz. He spent fifteen years in Ohio and made his way back to California where he met and married his wife of 53 years, Terri, and together started a family. After fifty- plus years in California, He and wife Terri chose Berthoud, Colorado to retire and enjoy life.
Bob enjoyed spending time with family and friends, especially by the pool barbequing. He loved Disneyland, where we spent many weekends "making memories." He was an athlete with a love of baseball which he passed on to his three children. He was proud to call himself "Papa" and loved spending time with, and bragging about his granddaughter, Krystin. His love for space led to a trip to Space Camp, where he and Krystin had an incredible adventure of a life time. Bob was innovative and ambitious in life and in business. He was an entrepreneur, a computer consultant, and owned several small businesses. He was a man who was genuinely loved and respected by everyone he knew. He was a husband, father, grandfather, and a good friend. Bob will truly be missed.
Bob is survived by his wife Dr. Terri Harvey-Lintz; son Robert Jr. Lintz; son Brian Lintz and daughter-in-law Gina Lintz; daughter Jennifer Schooley and son-in-law Randy Schooley, granddaughter Krystin Schooley.
A burial at sea in Southern California is planned in the upcoming months.
"LOVE YOU, BYE-BYE"

Print This Post