Kevin Michael Campbell, 23, of Fort Collins, passed away Thursday, March 28, 2013 in Loveland.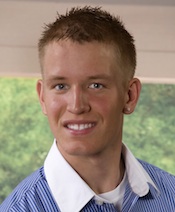 Kevin was born August 24, 1989 in Loveland to parents Kent and Candy Campbell. He graduated from Thompson Valley High School and was a senior Biology major at Colorado State University. He was devoted to his studies and deeply enjoyed learning.  He aspired to be a professional athletic trainer.
Kevin loved Father God with a passion and intensity that is indescribable. His polite, loving, gentle, tender and forgiving spirit was remarkable. Kevin's struggle with an illness he neither understood nor accepted is over. We take comfort in knowing that God knew Kevin's pain and the "why's," and that Jesus died and was resurrected for all of us. Kevin is at peace and in the eternal loving care of his Heavenly Father.
Kevin will be lovingly remembered by his mother Candy Rushold, father Kent Campbell and step-mother Trisha Campbell, sister Kristin Campbell, sister and brother-in-law Kari and Jesse Carosella, nephew Gunnar Carosella, step-sister Ginny Thacker, step-brother Robert Thacker, grandparents Carroll and Arlene Rushold, and many other family and friends.
A Celebration of Life will be held in Kevin's memory on Saturday, April 6, 2013 at 2:00 p.m. at Brookside Gardens, 619 E. State Highway 56, in Berthoud. Memorial contributions may be made to Realities for Children, Inc. in care of Resthaven. Condolences may be left for the family at resthavencolorado.com.

Print This Post