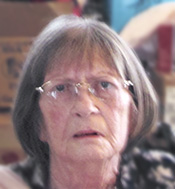 Lenora Strachan, 81, of Berthoud, died on March 3, 2014 at her home in Berthoud. She was born on March 8, 1932 in Erick, Oklahoma to Wit Wiley and Beulah (Wells) Warren.
Lenora graduated from high school in Porterville, California
She married Richard D. Strachan on December 23, 1954 in Lubbock, Texas.
Lenora worked as a homemaker, but also had short careers as a telephone operator and a pharmacy clerk, where she also managed a soda fountain.
She has lived in Berthoud since 1970. She had previously lived in Grand Junction.
Lenora was an accomplished seamstress and enjoyed making ceramics, canning, and making preserves. She was also active in cub scouts, serving as a den mother.
She is survived by her husband, Richard Strachan and son, Stephen Strachan of Berthoud, brother, Calvin Warren of Oklahoma City, Oklahoma, and sister, Sandra Dickenson and husband Arnold of Packwood, Washington.
Cremation has been completed. No services are scheduled at this time.
Memorial contributions may be made to the McKee Cancer Center in care of Kibbey Fishburn Funeral Home. 

Print This Post