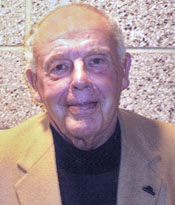 Dean G. Anderson, 83, of Berthoud, Colorado, died on February 22, 2014 at home. He was born on June 23, 1930 in Loveland, to Edwin Swan and Helen Josephine (Peterson) Anderson.
Dean graduated from Loveland High School in 1948 and attended the University of Colorado in Boulder.
He married Betty Jo Janssen on September 15, 1950 in Loveland.
Dean worked as a farmer and rancher all of his life.
He has lived in the Loveland/Berthoud area all of his life.
Dean was a lifelong member of Trinity Lutheran Church.
He was very involved with many organizations, serving on the Board of Directors for the Colorado Cattle Feeders, The Farm Service Agency, The Poudre Valley R.E.A.(for 27 years), The Big Thompson Conservation Board, The Little Thompson Water District, Larimer County Planning Commission, as well as being a co-owner of Loveland Feed and Grain.
One of his big passions and hobbies was working and ranching at his Sheep Creek Ranch in Rock River, Wyoming.
Dean is survived by his wife, Betty Anderson of Berthoud, daughter, Laurie Schlagel and husband Michael of Loveland, son, Steven Anderson and wife Laurie of Berthoud, grandchildren, Tyler Schlagel (Arika) of Berthoud, Aaron Schlagel of Evans, and Suzanne Hull (Tyson), Emmy Phillips (Tim) and Matthew Anderson (Amanda) all of Berthoud. He is also survived by his great-grandchildren, Dallas Schlagel, Braden Hull, Jordan Hull, Trevin Hull, Riley Anderson and Kash Anderson, all of Berthoud.
He is preceded in death by his brother, Fred Anderson.
Funeral services will take place at 10:00 a.m., Thursday, February 27, 2014 at Trinity Lutheran Church, 3333 N Duffield Avenue, Loveland. At the families request there will be no viewing. Interment will be at Loveland Burial Park.
In lieu of flowers, memorial contributions may be made to Trinity Lutheran Church or House of Neighborly Services in care of Kibbey Fishburn Funeral Home. 

Print This Post