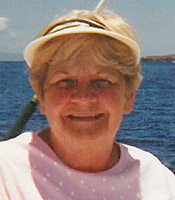 Louise Mary Baker, 75, of Berthoud, Colorado went to her Lord January 1, 2017 at Pathways Hospice Care Center in Loveland. She was born December 19, 1941 in Kingsville, Ontario, Canada to John and Gladys (Dodge) Chausse. In 1960 Louise graduated high school in Windsor, Ontario, Canada and married Lester Baker in Nevada in 1963. Louise and Lester moved from Southern California to Berthoud, in 1977.
Louise was a skilled homemaker who enjoyed shopping, people, cooking and collecting recipes, she especially enjoyed spending time with her family. Louise also enjoyed traveling and was especially fond of Maui, Hawaii and Myrtle Beach, South Carolina and had been to several Canadian Providences and U.S. States.
Louise is survived by her husband Lester Baker of Berthoud; son Eric Baker and wife Laura of Mead, Colorado; daughter Michelle Powell and husband Phillip of Milliken; sister Mary Renaud of Windsor, Ontario, Canada; as well as several nieces and nephews. Louise was preceded in death by her parents; brothers Edward, George and James Chausse; sisters Margaret Soullier, Florence Myre and Marjorie Swiston; and twin siblings who died at birth.
Louise was greatly loved and will be missed by all.
Memorial Mass will be held at Guardian Angels Catholic Church in Mead, on Thursday, January 5, 2017 at 11:00am with a reception immediately following mass. Inurnment will be held at Greenlawn Cemetery in Berthoud. Please go to www.viegutfuneralhome.com for online condolences.

Print This Post