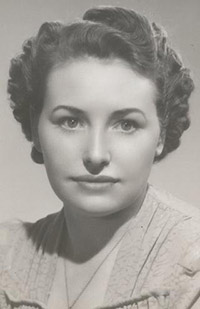 January 10, 1920 – January 7, 2017
Alma Irene Krieger, 96, of Loveland, Colorado died January 7, 2017 at her home. She was born on January 10, 1920 in Anamoose, North Dakota to John and Mollie Starck.
Alma grew up in Berthoud, and was a graduate of Bonnie Beauty School in Denver. On October 20, 1945, she married Harry Krieger in Berthoud.
Alma owned Alma's Beauty Shop in Berthoud for 35 years.
She enjoyed sewing, knitting, gardening, cooking, the outdoors, playing and watching sports including softball and baseball.
Alma is survived by her brother Alvin Starck of Johnstown; sisters Laurene Buehler of Lakewood and Helen Snyder of Idaho; as well as several nieces and nephews.
She was preceded in death by her husband Harry who died in 2005.
Funeral services will be held at St. Peter Evangelical Lutheran Church in Fort Collins on Thursday, January 12, 2017 at 10:30 A.M.
Viewing will be held at Viegut Funeral Home on Wednesday, January 11, 2017 from 4pm-7pm. Alma will be laid to rest next to her husband Harry at Greenlawn Cemetery in Berthoud.
Please go to www. viegutfuneralhome .com for on-line condolences.

Print This Post