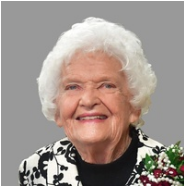 Marjorie Ann Knievel
February 12, 1927 – November 01, 2017
Marjorie Ann Foote Knievel, a longtime resident of Loveland and Berthoud died November 1, 2017 at Columbine Commons Health & Rehab Facility in Windsor, Colorado following a brief illness.
She was born in Loveland, Colorado February 12, 1927 the first child of Don and Margaret (Sharpless) Foote. She enjoyed a carefree childhood with her parents and sister Donna Lou in their home on the shores of Lake Loveland. After graduating valedictorian of the Loveland High School class in 1944, she continued her education at Colorado Women's College in Denver (graduating summa cum laude) and Pembroke College of Brown University earning a degree in Psychology.
Shortly after college graduation, she returned to Loveland and married her high school sweetheart, Kenneth Dale Knievel. After his graduation from the University of Colorado, the couple went to live in Maracaibo, Venezuela, where he worked with a petroleum company. There, they welcomed their first son, Kenny. A few years later, Ken took a job with IBM in Poughkeepsie, NY, where their second son, David, was born.
After several years living away, they moved back to the Loveland area. Then, home was a farm on the outskirts of town which was an ideal setting to raise their two boys. During this time Marge was not only busy raising her children and supporting the farm, but also served as Sunday school teacher at the First Baptist Church in Loveland where she was a lifelong member.
After the boys were grown and out on their own, Ken & Marge moved to the farm in Berthoud, also known as KenMar Farm, which had been in her family for many years. She joined the First Presbyterian Church of Berthoud and volunteered at the McCarty-Fickel Home Museum. She was a member of P. E. O. and served 12 years on the board of the Northern Colorado Water Conservancy District. The Loveland Rotary Club recognized her as a Paul Harris Fellow. She was an avid stamp collector and loved both her playing and non-playing bridge clubs. Marge and Donna also published a family history book honoring their parents. This past February she celebrated her 90th birthday. When asked her advice for a long, happy life, she replied, "Just enjoy!"
She was dearly loved by her family and friends whom she inspired with her wisdom, generosity, kindness, patience and deep spirituality. Her eternal optimism and her ability to always have the most supportive, caring, classy remarks in any situation were admired by many. She will be missed by all who knew her, but who are grateful for her being.
Marge is survived by her sons Kenny (Karen) Knievel of Severance, David (Rhonda) Knievel of Wiggins, grandchildren Kristie Magnuson (Tim) of Eaton, Dr. Kerry Knievel of Phoenix Arizona, Melissa Natanson (Jason) of Pismo Beach California, Robb Knievel (Diane) of Stapleton Nebraska, sister Donna Erismann of Schonenwerd Switzerland, great-grandchildren Gordon & Macy Magnuson and Makadyn & Rhett Knievel, and six nieces and nephews.
Predeceased members of her family are husband Kenneth Dale, daughter in-law Margery (Frank) Knievel, and niece Susanne Erismann.
A memorial service will be held at 1:00 p.m., Friday, December 15, 2017 at the First Baptist Church, 1003 West 6th Street, Loveland CO.
In lieu of flowers, a charitable donation in Marjorie's memory can be made to: First Baptist Church of Loveland, Berthoud Historical Society or Larimer County 4-H in care of Kibbey-Fishburn Funeral Home, 1102 North Lincoln Ave., Loveland, CO 80537
Memorial Service
Friday, December 15, 2017
1:00 PM
First Baptist Church
1003 W. 6th Street
Loveland, Colorado 80537

Print This Post