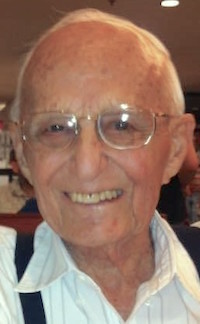 Floyd S. Sterkel, 87, of Berthoud Colorado passed away November 22, 2017 at Pathways Hospice Care Center in Loveland Colorado, surrounded by his family he loved so much. Floyd was born May 15, 1930 in Gering Nebraska to George and Elizabeth Sterkel. Sisters Julie Hart and Ardell Bath.
On January 30, 1970 he married his beautiful bride Dorothy L. Reider. She took his last name and his heart forever. Together they had four daughters Norma Lee Davis husband Dave; Pam Funke (Sterkel) husband Cedrick; Judy Sterkel and Lorene Balm (Frank) husband John. They were blessed with five grandchildren Jaimie Mohr husband Daniel; Doug Davis wife Carrie; Dave Davis; Ashley Funke husband Chris and Jonathan Balm wife Faith. As well as Great Grandkids Taylor and Kyle Davis, T.J. Davis, Sammy and Kaylee Mohr
Floyd's first job saved his life. Herman Smith owned a heavy equipment business and hired Floyd a few years before the Korean War. Floyd has in fact moved most of the dirt we live on in Berthoud. He even had a hand in building a reservoir over his family's land we now know as Carter Lake. June 8, 1951 Floyd was called to serve his country in the Korean War.
After boot camp he was on track to be an ordnance dismantler. Taking apart bombs in short. Somehow it was found that Floyd could skillfully could run near all of the heavy equipment. And was quickly set to doing just that running a dozer for the majority of the war. All and all he gained the rank of corporal. He was so skilled that after his discharge from the army he was asked to stay for a while and build a golf course.
When Floyd returned to Berthoud he continued with heavy equipment and driving truck in Wyoming, he eventually favored work that let him use his hands and create. From restoring cars to becoming a very skilled aluminum welder and brought beauty in this world with his hands at Western Foundries in Longmont Colorado for 35 years. He enjoyed fishing, camping and dancing polka with his polka queen Dorothy. They could dance the night away together. Floyd's service was held at Viegut Funeral Home on November 24, 2017 and his cremains will be placed at Greenlawn Cemetery in Berthoud Colorado. Go to www.viegutfuneralhome.com for on-line condolences.

Print This Post