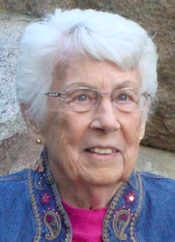 Marjorie (Marge) Tysdal of Berthoud passed away at home surrounded by family on June 23, 2012, after a courageous battle with cancer.
Marge was born on April 20, 1922 at her family home in Eagle Grove, Iowa and graduated from high school in 1940. She met the love of her life, Tony Tysdal, and they were married in Hampton, Iowa on March 23, 1944. They celebrated 65 years of marriage.
Marge and Tony had two children, Gary and Marsha. They moved to Colorado in 1991 to be close to family. Marge held many jobs including being a nanny, bank teller and bookkeeper for Dr. Schaeferle and many other businesses.
Marge had many hobbies including knitting, crocheting, crafts, reading, word search, playing cards (specifically bridge), traveling and spending time with family and friends. Her family was very musically oriented and she enjoyed attending her children's and her son-in-law's band performances and concerts.
She was preceded in death by her parents, Ernest & Emma Kell, her husband, son Gary and sister Irene Eldredge.
Marjorie is survived by daughter Marsha and Chuck Morgan of Fort Morgan, granddaughter Kimberly Fox and great granddaughter Ashley Fox, both of Fort Collins, as well as nieces, nephews, cousins and friends.
Viewing will take place Friday, June 29 from 5-7 p.m., at Viegut Funeral Home, 1616 N. Lincoln Ave., Loveland. Services will be Saturday, June 30 at 2 p.m. There will be a private family burial.
In lieu of flowers contributions may be made to Pathways Hospice of Larimer County and Fort Morgan Bandshell Project (checks made payable to PVFB/FM Bandshell Project) in care of Viegut Funeral Home.

Print This Post