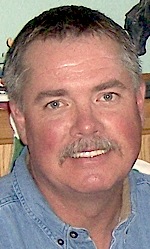 Mark R. Simon January 3, 1958 – October 30, 2012
Mark Roland Simon was born Jan. 3, 1958 in Longmont, Colorado to OrLee and Dixie Simon and shortly thereafter moved to Loveland where he graduated from Loveland High School in 1976, While attending Colorado Mountain College he met Cathy Culter and they were married September 15, 1979 in Greeley. They lived in Loveland, later moving to a small farm near Berthoud that Mark thought of as his little slice of heaven and couldn't imagine living anywhere else. During his late teens and early twenties, Mark work with his father OrLee , at Mr. Ice, then graduated from Aims Community College with a degree in Reprographics and eventually owned and ran Minuteman Press of Ft. Collins and helped start and jointly owned United Mailing in Ft. Collins.
Mark was especially fond of the outdoors, especially hunting, fishing, hiking, tennis and scuba diving, with trips to Tahiti, Bonaire and Fiji, but over the past few years his favorite hobby became rock and fossil hunting. Most of all, Mark loved his family, hunting and fishing with his son, Tom, that special connection that only a Dad can have with his daughter, Megan, fishing, hiking, tennis and scuba diving with Cathy, and "Prairie Pirate" trips with his sister Laura. He hardly ever missed one of Tom's baseball games or Megan's tennis matches or horse shows. Mark was an avid gardener, both flowers and vegetables and over the course of several years built a beautiful pond in his garden where he spent hours walking around, pulling a weed here or there, but mainly just enjoying being close to nature.
Mark was a long time member of the Berthoud Gun Club, serving both on the Board and as President, and was also a member of Ducks Unlimited, serving on the banquet committee as well as being the emcee for the banquet and auction for numerous years. He was a member and served as Elder and Diaconate as well as the Head of the Congregation of First Christian Church. Mark was a leader, well respected and well loved.
He leaves behind his wife, Cathy, daughter Megan Chester and husband Patrick of Phillipsburg, Kansas, son Tom of Loveland, mother Dixie Simon of Loveland, sister Laura Rice and husband Doug of Loveland, Mother-in-law Maxine Culter of Greeley and Brother-in-Law Dave Culter and wife Karin of Greeley as well as two nieces, Krystin Rice of Loveland, Sarah Johnson and husband Aaron of Denver, and two nephews, Jerrod Rice of Loveland and Daniel Culter and wife Kitty of Cheyenne, Wyoming.
Mark was preceded in death by his father, OrLee Simon of Loveland and his grandmother, Genevieve Shelton of Loveland, with both of whom he had incredibly strong, special relationships and also his Father-in-Law, Gil Culter of Greeley whom he once helped carry off a mountainside when he sustained a heart attack while hunting. Mark will be missed so much by all his family and friends, his life was cut way too short.
Memorial services will be held on Monday, November 5, 2012, 11:00 A.M. at First Christian Church, Loveland. Viewing will be held Friday, November 2, 2012, from 4pm-7pm at Viegut Funeral Home. Memorial contributions may be made to Viegut Funeral Home. Go to www.viegutfuneralhome.com for condolences.

Print This Post