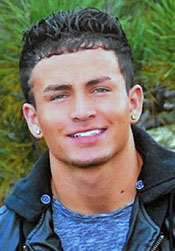 Michael Sneyder Woodiel, 19, of Berthoud, died August 21, 2015. Michael was born in Bogota, Colombia on July 22, 1996. Berthoud became home for Michael, along with his sister Jenny Paola, September 27 2006, by adoption to Bart and Kathy Woodiel. Michael's family also includes his brother Justin Michael Woodiel and his wife Andrea, sister Stephany Lynn McClure and her husband Matt and two nieces Neveah and Temperance McClure.
Michael graduated from Berthoud High School in 2015. Special recognitions Michael received included: the Josh Angelo Memorial 2014-2015, 4 year participation in Varsity Football Berthoud High, second place at State level competition in the 4×1 and 4×2 relays in 2012 and participations also include Wrestling, Track and Field and Community outreach programs.
Michael will be missed but will be remembered daily for his infectious smile and kind heart especially to children and those who needed a friend. His greatest goal in life was to be a great husband and father to his future family.
A memorial Service will be held Thursday, August 27, 6:30pm, at LifeSpring Covenant Church, 743 South Dotsero, Loveland, Colorado. Public viewing will be Wednesday, August 26 from 1 to 4pm at Viegut Funeral Home, 1616 N. Lincoln Ave. Loveland CO. Memorial funds for Michael can be directed to The Ukraine Orphan Outreach Program, Guaranty Bank of Berthoud. Go to www.viegutfuneralhome.com for condolences.

Print This Post