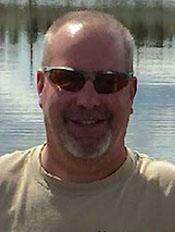 Steven Edward Coseo 57, of Berthoud formerly of Loveland, passed away at University Hospital in Aurora, Colorado on August 26, 2015 after a lengthy illness. He never gave up the fight.
Steve was born in Loveland on January 19, 1958 to Donald and Edna (Geist) Coseo. Steve was the oldest of three children. Steve lived most of his life in the Loveland area, moving away a couple times but always coming back home.
Steve married Gladys (Bethel) Coseo on June 11, 1977 in Loveland at St. John's Catholic Church. Their journey began and lasted for 38 years. They have three beautiful children, Christopher, Nicholas and Kelly, and eight beautiful grandchildren, Jordan, Ally, Christian, Gabrielle, Isabelle, Nicholas Jr., McKenna, and Rukia.
Steve was a loving and amazing husband, son, father, grandfather, brother, and uncle. He took his family on many amazing adventures, hunting, fishing, camping, 4-wheeling, motorcycling, and many great vacations.
Steve's favorite hobby was hunting. He was an amazing hunter and found great joy in teaching his children, grandchildren, brother, nephews and many friends how to do the same. He lived for every hunting season and was usually packed and ready to go weeks before it was time. He also had a great love for music of all kinds, and was a great singer and dancer, singing at many family functions and entertaining all.
Steve went to Loveland schools, and acquired his GED and later went to the Police Academy in 1988 where he completed his law enforcement certification. Steve was a master plumber and always did that trade even when working as a Police Officer.
Steve fulfilled his dream as a Police Officer and worked for the Loveland Police Department. He served as a Loveland Police Reserve starting in 1983 and in 1985 worked as a Loveland Community Service Officer until he obtained his police certification in 1988. He served on the Loveland Police Department and was involved in many of the programs: the K-9, Santa Cops, Crime Prevention Unit, and DARE, until he moved his family to Gunnison in 1996 to work for the Sheriff's Dept. The Coseo family moved back to Loveland that same year and Steve went back to his trade as a master plumber.  He once again decided to go back into law enforcement in 2010 and worked as a reserve officer in Berthoud until he was hired at Gilcrest, Colorado and worked there until 2013. He was an Officer, Sergeant, and became the Chief. Steve also worked many other jobs over his lifetime but loved being a Police Officer and loved helping others.
Steve will be deeply missed by all who knew him. He did so many things for others and tried his best to reach out to others and help them. He had a great sense of humor, and was a great provider for his family.
Steve is survived by his loving wife Gladys, his children, Christopher (Ashley), Nicholas, and Kelly (Donni), eight grandchildren, his father, Donald Coseo, sister, Donna Coseo, and brother, Tom (Amy) Coseo, and many nieces, nephews, cousins and close friends.
Steve is preceded in death by his mother, Edna Coseo.
Our family would like to thank all our friends, co-workers and everyone for all the thoughts and prayers and support that held us strong throughout our struggle, and also would like to thank the great doctors, nurses and physical therapists and many others at University Hospital that took such great care of Steve and Gladys and our family.
A Celebration of Steve's life will take place on Thursday, September 3, 2015 at First Christian Church, at 2000 N. Lincoln Ave. at 2:00 pm. There will be a reception following the service at the same location the family would like everyone to join them and have some good food and refreshments in honor of Steve.
In lieu of flowers contributions can be made to the Steve Coseo memorial fund in care of Kibbey–Fishburn Funeral Home.

Print This Post