Pauline Weitzel, 100, of Berthoud passed away Sept. 4 at Life Care Center of Longmont. She was born March 3, 1909, in Alexanderdorf, Russia, to John and Mollie (Mueller) Starck.
She moved from Russia in 1909 as an infant to Minot, South Dakota, and in 1920 moved to Berthoud. On Jan. 16, 1927, she married John Weitzel in Berthoud.
She was a seamstress, making draperies for many years. She was a member of St. Peter Evangelical Lutheran Church in Fort Collins. She loved her family and the Lord, and enjoyed knitting, crocheting and tatting.
She is survived by her son Wilson Weitzel of Minnesota; daughter Virginia Jones (Melvin) of Longmont; a brother; three sisters; nine grandchildren; and 11 great-grandchildren.
She was preceded in death by her parents; her husband; a daughter, Florence Gettman; a great-grandson, Christopher Walker; five brothers and five sisters.
Memorial services will be held Tuesday 10:30 a.m. at St. Peter Evangelical Lutheran Church, Fort Collins. Burial 1 p.m. at Greenlawn Cemetery, Berthoud.
Memorial contributions to St. Peter Evangelical Lutheran Church or Boulder County Hospice in care of Viegut Funeral Home, 1616 N. Lincoln Ave., Loveland, CO 80538.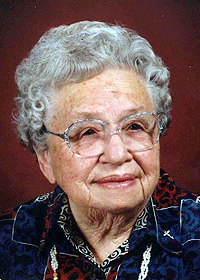 Print This Post