Thomas "Dude" Wesley Dean, 86, was born June 30, 1923, and died Sept. 1, 2009.
He is survived by his wife, Virginia Ruth Dean, three children; Carol Fleeger and husband Wally of Berthoud; Daniel Dean and wife Denise of W. Richland, W. Va., and Lori Victoria and husband Stanley of Kingwood, Texas. He has seven grandchildren, seven great-grandchildren and one great-grandchild.
Thomas served his country in the United States Marine Corps during World War II and was awarded numerous medals, including a Purple Heart. He worked as a lineman for many years in Loveland and Estes Park and retired to move to Longmont. He will be missed greatly by his family and friends.
Service will be Saturday, Sept. 5 at 10 a.m. at Kibbey-Fishburn Funeral Home.  Interment will follow at Foothills Gardens of Memory, Longmont. Memorial contributions may be made to Hospice of Boulder and Broomfield Counties in care of Kibbey-Fishburn Funeral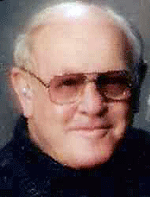 Print This Post