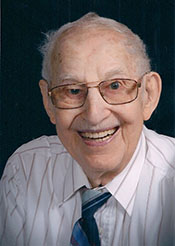 Phillip Hart, Jr.
January 9, 1918 ~ September 23, 2013
Phillip Hart, Jr. died September 23, 2013 at the age of 95. Phillip was born January 9, 1918 in Berthoud, Colorado to Phillip and Katrina (Burback) Hart. He was baptized and confirmed in the German Congregational Church of Berthoud.
Phillip grew up on a farm and worked for an implement dealer before being drafted into the Army in 1942. He was in the first amphibious Engineering Commando that was formed. His unit invaded North Africa on November 8, 1942 and went on to Sicily, Italy, France and the Rhine River in Germany. He served 33 months overseas through five major invasions and two minor invasions. He was discharged on VE Day, 1945.
On June 9, 1957 he married Mildred Ridgedale.
Phillip worked as a welder for Kats Implement and when the FAA Center opened, he managed the cafeteria for five years. He and Stanley Williams of Berthoud formed the Wayco Vending business and was involved with that for 18 years. He also worked in the food service at Hewlett-Packard of Loveland and did catering. After he retired, he volunteered for the Longmont Police Department for seven years. He was a member of Bethlehem Lutheran Church where he served as head usher for 35 years. He was also involved in cooking for the church's various men's organizations. He was a member of the American Legion Post 32 and a life member of the DAV. He enjoyed traveling, auctions and repairing lawn mowers.
Phillip was preceded in death by his parents, his wife, one sister and seven brothers.
Phillip is survived by her daughter Maridee (David) Schroeder of Eagan, Minn. and many nieces and nephews.
Visitation from 4:00 – 6:00pm, Thursday, September 26 at Ahlberg Funeral Chapel with the family present to greet. Funeral service will be held at 11:00 am, Friday, September 27 at Bethlehem Lutheran Church, 1000 15th Ave., Longmont, CO. Military honors by American Legion Post 32 at the church. Burial at Greenlawn Cemetery, Berthoud. Memorial contributions may be made to the American Legion Scholarship Fund in care of Ahlberg Funeral Chapel. Visit www.ahlbergfuneralchapel.com to share condolences.

Print This Post